Community Notices
COATES COMMUNITY DEFIBRILATOR -OUT OF SERVICE (27/10/2021)
Please be aware that during a recent inspection it was noted that the Coates Community Defibrillator, located at the Coates Village Hall, is out of order. If a defibrillator is required in an emergency situation please call 999 who will, if one is required, direct you to the nearest alternative defibrillator.
Once repaired the defibrillator will be put back in service again to help save lives.
Coates Parish Council
Pre-school immunisation
Statistics show that Gloucestershire has a poor take-up of pre-school vaccinations, which are vital to protecting our more vulnerable
children. These are the vaccinations children are invited to have at age three. See Kids jabs poster for information about child vaccinations.
Walking Your Dog in The Countryside
See the guidelines in the attached leaflet for walking your dog in the countryside
and a reminder about dog fouling …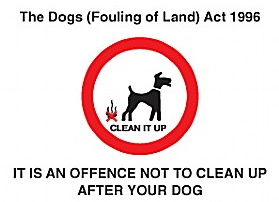 There have been a number of recent complaints about dog fouling in Coates.
Will all dog owners  please pick up their dog's mess especially where children play and outside other people's houses whether on the pavement or grass verges?
The maximum fine is £1000 in the Magistrates' Court.