Thames Source
Coates is home to the source of the river Thames and the start of the 184 mile long Thames Path (a National Trail) which meanders through Kemble, Ewen, Ashton Keynes and Cricklade before heading east to Lechlade, onwards through Oxford and completes its journey at the Thames Barrier near Woolwich, London.
The source of the river is about 1.2 miles from Coates, to reach the source of the river: with your back to the village hall follow Trewsbury Road towards the A433, after about 0.5 mile there is a single cottage on the left with a signed footpath to left and right. Take the footpath to the right and when this ends, at a gate, follow the Wysis way footpath to the left. Keep ahead, ignoring the sign almost immediately to the right (to Tunnel House) and cross fields over 3 stiles. After 3rd stile keep to the left for about 200 yards until reaching the stone marking the source of the Thames and signpost marking the start of the Thames Path walk.
Retrace your steps to Coates or why not detour and when reaching the signpost to the Tunnel House take the path to the left and follow alongside the Thames and Severn canal (disused on this stretch). On reaching the magnificent entrance to the Sapperton tunnel take the steps on your left leading up to the Tunnel House Inn.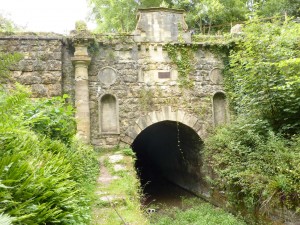 To return to Coates follow the track (unmade road) leading a few hundred yards down to the road then turn left along the road and on reaching Coates turn right to return to the village hall. (There is an alternative footpath across fields to Coates, arriving at the back of the St Matthew's church). The round trip from Coates to the source and returning via the Tunnel House is about 3.5 miles.  Footpaths may be muddy and although the roads are not busy be very careful of traffic when walking on them.