Booking The Hall
The Village hall has two rooms which can be booked for your meeting or social event and are accessible for those persons in a wheelchair.
The main hall can seat 60 people at tables.  There is a side annexe which provides a quiet area or could be used for serving a buffet.  There is also access to WC and a newly fitted, fully functional  kitchen with 2 double ovens, fridge freezer and a commercial dishwasher (washes loads in 2 – 4 minutes).
The small (meeting) room has recently been refurbished and hosts a smart, modern bar area. It is ideal for small groups (up to 12 people) and has access to WC.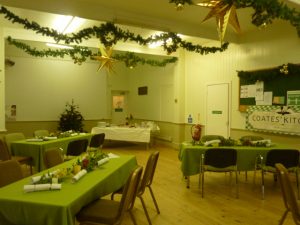 See Information & Conditions  for hiring the hall, and Cov-19 supplementary terms and conditions. To make a booking please download the Booking Request Form and give your completed booking form to any of the contacts shown below (at present we are not able to accept requests sent by email). 
Click here to check that the hall is available for the date and time you wish to book.
For booking information and enquiries contact :  Lynn Vaughan (01285 770876) or Howard Burr (07775 686302). Alternatively complete the contact form on the Village Hall page.